Complementary medicine better for blood pressure
Posted on Thu, 28 Nov 13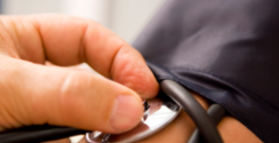 A treatment plan for people with high blood pressure based on complementary medicine principles was far more effective than a standard conventional approach.
For people with high blood pressure the standard medical approach consists of some basic dietary changes, exercise recommendations and drugs. Complementary medicine on the other hand takes a more comprehensive approach and may utilize different dietary modifications, stress management, diaphragmatic breathing, yoga, qigong and exercise.
To compare the two approaches a group of people on blood pressure medication were given either standard dietary recommendations and exercise, or a complementary medicine programme (consisting of a naturopathic dietary approach, walks, yoga, relaxation and stress management).
After 16-weeks the complementary medicine programme (CALM-BP) resulted in greater reductions in blood pressure and medication use than the conventional approach (DASH).
Image: Time until blood pressure medication reduction during the intervention period.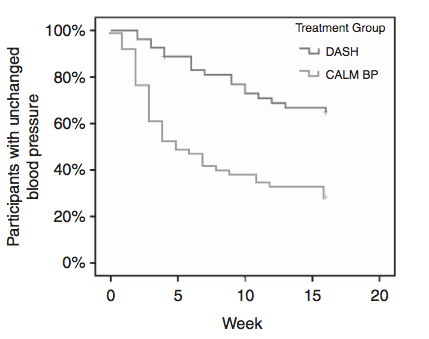 The complementary approach also resulted in a better lipid and blood glucose profile and an increase in quality of life, compared to the conventional approach.
"The results of this study highlight the beneficial effect of complementary medicine interventions involving a multifactorial team approach addressing physical, nutritional and psychosocial aspects of hypertension" concluded the investigators.
Reference:
Ziv A, Vogel O, Keret D, et al. Comprehensive Approach to Lower Blood Pressure (CALM-BP): a randomized controlled trial of a multifactorial lifestyle intervention. J Hum Hypertens. 2013 Oct;27(10):594-600.
Tags: Yoga, Blood Pressure, Exercise, Heart Disease, Complementary Medicine
Related Articles
Comments