Wet your lips, shrink your hips
Posted on Wed, 12 May 10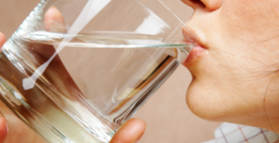 Beyond simply being a healthy alternative to sugar sweetened drinks water might improve your metabolism and help control your appetite. In any case, it seems drinking more water is a simple way to promote weight loss.
Water may wash away excess weight
Energy rich beverages (fruit juice and soft drink) are associated with weight gain and obesity, not only because they are rich in calories but because these calories sneak past your brains senses and pack on the pounds more easily than solid food. A logical alternative to sweetened beverages is water however besides being a low calorie alternative, water may also improve your metabolism (1).
To examine the possibility that water helps with weight loss women who were dieting and drinking over a litre of water a day were compared to those who were drinking less. Remarkably it was found that women who simply drank more water experienced a decrease in body weight, waist circumference, and percent body fat over 12 months, an effect not explained by reduced calorie intake alone (2).
Before a meal may be best
In a recent study of women who were already consuming a low calorie diet for weight loss advice to drink 500ml of water before each of the three main daily meals (1.5 litres a day) resulted in much greater weight loss compared to just the diet alone. In fact over 12 weeks the women who drank water before meals lost an additional 2 kilograms, an effect that may have been due to increased feeling of fullness and a tendency to eat less (3).
Collectively these findings suggest that ensuring optimal water intake each day may be an effective way to support a healthy body weight.
References:
1. Dennis EA, Flack KD, Davy BM. Beverage consumption and adult weight management: A review. Eat Behav. 2009 Dec;10(4):237-46.
2. Stookey JD, Constant F, Popkin BM, Gardner CD. Drinking water is associated with weight loss in overweight dieting women independent of diet and activity. Obesity (Silver Spring). 2008 Nov;16(11):2481-8.
3. Dennis EA, Dengo AL, Comber DL, Flack KD, Savla J, Davy KP, Davy BM. Water consumption increases weight loss during a hypocaloric diet intervention in middle-aged and older adults. Obesity (Silver Spring). 2010 Feb;18(2):300-7.
Tags: Water, Sugar Sweetened Beverages, Soft Drink, Weight Loss
Related Articles
Comments