Magnesium-rich drinking water saves lives
Posted on Sun, 16 Feb 14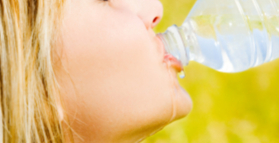 A researcher has highlighted the potential for magnesium rich drinking water to improve deficient magnesium intakes and prevent millions of deaths from heart disease, literally.
Andrea Rosanoff PhD points out that "people living in areas with low-magnesium water have high rates of heart attack and stroke death" and that "consumption of drinking water even moderately high in magnesium (at least 10 ppm and up to 40 ppm and higher) can be expected to reduce cardiovascular mortality by 30–35%."
Indeed studies have shown that less than 3–6 ppm magnesium in drinking water is associated with very high rates of death from heart disease, and that deaths decline as the magnesium concentration of water increases.
By her estimates "universal drinking water and beverages containing moderate to high levels of magnesium (10–100 ppm) could potentially prevent 4.5 million heart disease and stroke deaths per year, worldwide."
Most bottled and tap water contains little, if any magnesium (typically less than 7 ppm), however some natural spring waters may be as high as 110 ppm. Ideally drinking water should contain a minimum of 25–50 ppm magnesium.
Reference:
Rosanoff A. The high heart health value of drinking-water magnesium. Med Hypotheses. 2013 Dec;81(6):1063-5.
Tags: Magnesium, Heart Disease, Water
Related Articles
Comments