An apple a day vs. a statin a day
Posted on Tue, 4 Feb 14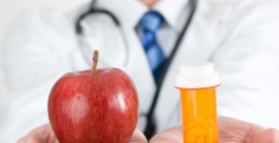 A scientific comparison of advice to eat an apple a day vs. taking a statin a day has sparked a serious question; should we be medicating people with fruit instead of drugs?
A team from Oxford University decided to see how the age old advice of an apple a day might compare to the more modern approach of statin drug therapy for the primary prevention of cardiovascular disease.
They modeled and contrasted the effects of a daily statin or apple prescription for everyone in the UK over 50 years old, looking at cardiovascular deaths, and drug or fruit costs.
The comparison suggested that a statin would prevent 9400 vascular deaths each year while the estimated reduction would be 8500 for an apple.
Statins were cheaper than apples, with the cost of a prescription of simvastatin 40 mg of £1.24 per month and an apple approximately 4.7 pence an apple. But this did not include the cost of general practice appointments or the cost of managing statin side-effects.
And the investigators did note that prescribing statins would incur considerable side-effects; 1200 cases of myopathy, 200 cases of rhabdomyolysis, and 12300 new diagnoses of diabetes mellitus. They pointed out that "no side effects were modeled for increased apple consumption; aside from the distress caused by a bruised apple, and the theoretical risk of identifying half a worm inside, apple related adverse events are not widely recognized."
"We find that a 150 year old proverb is able to match modern medicine and is likely to have fewer side effects" they concluded, and went on to say… "Now to model the effect of inquisitiveness on feline mortality rates." Indeed.
Reference:
Briggs AD, Mizdrak A, Scarborough P. A statin a day keeps the doctor away: comparative proverb assessment modelling study. BMJ 2013; DOI: 10.1136/bmj.f7267.
Tags: Apples, Statin, Heart Disease
Related Articles
Comments