The food metabolome: 21st century nutrition
Posted on Mon, 28 Apr 14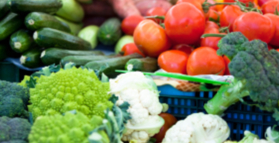 Did you know that a complex mixture of tens of thousands of bioactive compounds in food powerfully influence your unique metabolism each day? Understanding how this food metabolome affects our health may revolutionize personalized nutrition.
There are over 25,000 compounds in your food, all of which interact and influence the human metabolome (the metabolic intermediates, hormones and other signaling molecules that influence biochemical reactions in your body) and it is this interaction that is, at a very fundamental level, how your diet affects your health.
"The "food metabolome" has been defined as the sum of all metabolites directly derived from the digestion of foods, their absorption in the gut, and biotransformation by the host tissues and the microbiota."
So with this remarkable complexity - tens, perhaps hundreds, of thousands of dietary compounds in our diet dynamically interacting with at least 50,000 metabolic targets in our own body - how do we understand what is going on?
One way would be to apply modern analytical techniques and map thousands of dietary biomarkers at once, with the aim of uncovering new relationships between food and health.
Most dietary studies use questionnaires and assessment tools that are not very accurate or individualized, so mapping food exposure with new techniques would provide "metabolite profiling or fingerprinting" thus allowing for simultaneous monitoring of multiple metabolic signals indicative of food intake. Coupled with individual genetic data this would provide new insights into how complex food-gene interactions are linked to disease.
"Humans consume as many metabolomes as there are biological species making up our foods—for example, the tomato or beef metabolomes. Therefore, the human metabolome contains fractions of these metabolomes, partly transformed after ingestion, which constitute the human food metabolome."
In contrast, our current approach to understating nutrition is largely driven by a hypothesis and then a research study that sets out to prove, or disprove the idea. So an advanced way of rapidly identifying relationships between nutrition - including food constituents, whole foods and dietary patterns - and the development of illness in an individual is an exciting proposition for personalized medicine.
Setting the stage for the future, a review in the American Journal of Clinical Nutrition "The food metabolome: a window over dietary exposure" provides a beautiful view of where the future of nutritional science is heading.
"It will be essential to build multidisciplinary projects and make sure that the design of future studies is defined and optimized to answer to nutritionists' and epidemiologists' most urgent needs for biomarkers. Major progress in assessing complex dietary exposures at the individual level is expected from these biomarkers. They should also significantly contribute to a better understanding of the complex interactions between diet and human health."
Reference:
Scalbert A, Brennan L, Manach C, Andres-Lacueva C, Dragsted LO, Draper J, Rappaport SM, van der Hooft JJ, Wishart DS. The food metabolome: a window over dietary exposure. Am J Clin Nutr. 2014 Apr 23. [Epub ahead of print] - link to abstract
Tags: Personalized Nutrition, Nutrigenomics,
Related Articles
Comments