Stop your brain shrinking with B vitamins
Posted on Sun, 3 Oct 10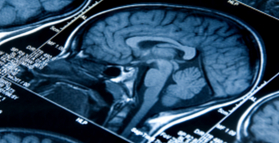 Daily B vitamins supplements have been found to reduce age related brain shrinkage and may be a simple, cheap and safe way to prevent cognitive decline and Alzheimer's disease.
Gradual brain shrinkage often occurs with increasing age and is associated with cognitive decline and the development of Alzheimer's disease. Is not certain why some peoples brain age faster than others but high blood levels of homocysteine, an indicator of poor B vitamin intake, has been associated with brain shrinkage, cognitive impairment and dementia.
To see if taking B vitamins could prevent brain shrinkage elderly subject received daily B vitamins (folic acid 800 mcg, vitamin B12 500mcg and vitamin B6 20 mcg) for two years (1). At the end of the study vitamin B supplements reduced homocysteine concentration by 31.7%, and MRI brain scans found a reduction in the rate of brain breakdown of almost 30%. The effects were most pronounced in those with the highest homocysteine levels who reduced their brain shrinkage by up to 53 per cent.
Commenting on these findings one of the study authors Professor David Smith said the results were very promising (2). "It is a very simple solution: you give someone some vitamins and you protect the brain."
"This is a very striking, dramatic result. It's much more than we could have predicted. It is our hope that this simple and safe treatment will delay the development of Alzheimer's disease in many people who suffer from mild memory problems" said Professor Smith.
References:
1. Smith AD, Smith SM, de Jager CA, et al. Homocysteine-lowering by B vitamins slows the rate of accelerated brain atrophy in mild cognitive impairment: a randomized controlled trial. PLoS One. 2010 Sep 8;5(9):e12244.

2. Alleyne, R. Vitamin B is revolutionary new weapon against Alzheimer's Disease. The Telegraph.co.uk. Published: 5:00AM BST 09 Sep 2010.
Tags: Cognitive Decline, Alzheimer's Disease, Dementia, Brain Aging
Related Articles
Comments