For a better brain, avoid processed foods
Posted on Tue, 4 Dec 12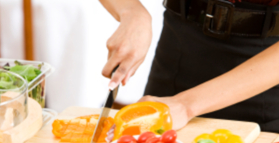 A processed food diet is related poor memory and cognitive function while a whole food diet may help protect against age related cognitive decline.
In a study investigating association between diet and age related cognitive health in a sample of 249 people aged 65–90 years with mild cognitive impairment it was found that a processed food pattern (rich in desserts, biscuits, potatoes, refined grains, fried foods, high fat dairy, snacks, high fat takeaway, chocolate and sweets, processed meat and fish, sugar beverages and red meat) foods was associated with reduced memory and impaired higher cognitive function.
This type of study cannot prove processed foods increase mental decline with age, but it adds to a growing body of research suggesting that healthy foods are linked to a healthier brain. "The Mediterranean diet, characterised by a diet high in fish, fruits and vegetables rich in antioxidants," for example "has been associated with a reduction in the risk of Alzheimer disease in an older population" point out the study investigators.
Reference
Torres S.J., Lautenschlager N.T., Wattanapenpaiboon N., Greenop K.R., Beer C., Flicker L., Alfonso H., Nowson C.A. Dietary Patterns Are Associated with Cognition among Older People with Mild Cognitive Impairment. Nutrients. 2012; 4(11):1542-1551
Tags: Brain Aging, Cognitive Decline, Alzheimers Disease
Related Articles
Comments