Reverse heart disease with nutrition
Posted on Thu, 3 Jul 14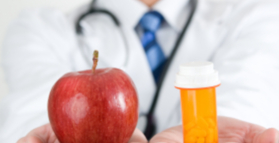 Drugs and surgery are doing little to halt deaths from the No 1 Killer: cardiovascular disease, but a new study has shown that a plant-based diet can stop and even reverse it.
A long-term study (mean of 3.7 years) from the Cleveland Clinic has reported the results of a plant-based dietary intervention in almost 200 people with established heart disease (1).
The people in the study followed a diet based on whole grains, legumes, lentils, vegetables, and fruit along with a multivitamin, vitamin B12 supplement and flax seed meal.
Strikingly, there was a very high adherence rate (89%) and adherence had a huge pay off with only one person experiencing a major cardiovascular event, which translates to a rate of 0.6%. In other words, 99.4% of people avoided major cardiac events.
In contrast, those who did not adhere to the diet had an event rate of 62%. And primary prevention with medication (statins) or surgery (angioplasty) have little to no impact on mortality with a 0% reduction from surgery, and less than 1% from statins (2,3).
In the early 1980s, a small-scale study by the same group demonstrated rapid improvements in cardiac function, resolution of angina and angiographic evidence of disease reversal. And they have been using the program to reverse heart disease since (see image below).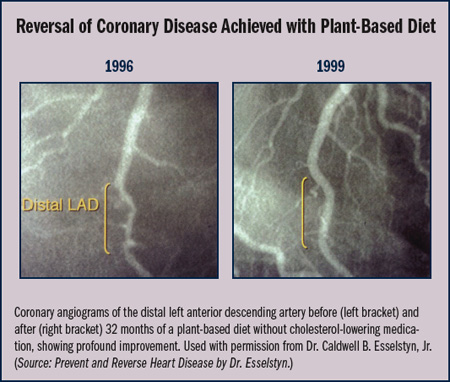 "In summary, the present cardiovascular medicine approach tested beyond 40 years can neither cure the disease nor end the epidemic and is financially unsustainable" wrote the authors. "The safety, diminished expense, and prompt, powerful, and persistent results in treating the cause of vascular disease by whole-food plant-based nutrition offer a paradigm shift from existing practice. We think the time is right for a controlled trial. But in the meantime, the data are sound and strong enough that patients should be informed of this option."
References:
1. Esselstyn GB, et al. A way to reverse CAD? J Fam Pract. 2014 July;63(7):356-364,364a,364b. - link to free full-text
2. Do statins have a role in primary prevention? An update. Therapeutics Letter. Issue 77: 2010. - link to free full-text
3. Boden WE, O'Rourke RA, Teo KK, et al. Optimal medical therapy with or without PCI for stable coronary disease. N Engl J Med. 2007 Apr 12;356(15):1503-16. - link to free full-text
Tags: Heart Disease, Dean Ornish
Related Articles
Comments