Blood oranges for your blood vessels
Posted on Mon, 28 May 12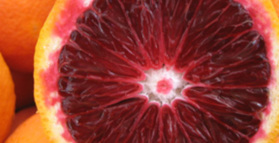 Blood oranges get their deep rich red color from a naturally high level of phytonutrients and drinking their fresh juice can lower heart disease risk markers.
Compared to, well, "orange" oranges, the red blood orange is higher in phytonutrients that give it its color and name including polyphenols, anthocyanins, lycopene and beta-carotene.
A study in the American Journal of Clinical Nutrition examined the effects of drinking some blood orange juice daily (500 ml) in a group of people with increased risk of heart disease (1).
After 1 week the juice resulted in significant improvements in cardiovascular function including reductions in markers of inflammation (C-reactive protein, IL-6, and TNF-α) known to predict heart disease risk. Living up to its name, the juice also normalised blood vessel function.
If you are going to enjoy blood orange juice makes sure its fresh, as the pasteurization and sterilization typical of commercial long-shelf life juices dramatically lowers the phytonutrient content (2).
References:
1. Buscemi S, Rosafio G, Arcoleo G, Mattina A, Canino B, Montana M, Verga S, Rini G. Effects of red orange juice intake on endothelial function and inflammatory markers in adult subjects with increased cardiovascular risk. Am J Clin Nutr. 2012 Apr 4. [Epub ahead of print]
2. Fiore A, La Fauci L, Cervellati R, Guerra MC, Speroni E, Costa S, Galvano G, De Lorenzo A, Bacchelli V, Fogliano V, Galvano F. Antioxidant activity of pasteurized and sterilized commercial red orange juices. Mol Nutr Food Res. 2005 Dec;49(12):1129-35.
3. Lee HS. Characterization of carotenoids in juice of red navel orange (Cara Cara). J Agric Food Chem. 2001 May;49(5):2563-8. PubMed PMID: 11368636.
4. Dugo P, Mondello L, Morabito D, Dugo G. Characterization of the anthocyanin fraction of sicilian blood orange juice by micro-HPLC-ESI/MS. J Agric Food Chem. 2003 Feb 26;51(5):1173-6. PubMed PMID: 12590452.
Tags: Oranges, Blood Oranges, Heart Disease
Related Articles
Comments