Citrus fruit flavonoid improves vascular health
Posted on Tue, 13 Mar 18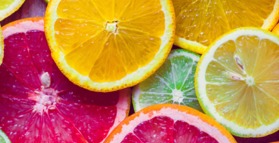 A flavonoid found in citrus fruit and peel may help lower blood pressure, inflammation and oxidative stress, according to recent clinical research.
Elevations in oxidative stress and inflammation are amongst the key molecular mechanisms that contribute to endothelial cell dysfunction and lead to the development of vascular disease. Endothelial dysfunction and impaired vascular relaxation is central to the development of hypertension, which dramatically increases risk of stroke, heart attack, and cerebrovascular complications.
Hesperidin, a flavonoid found in high concentration in citrus fruits and peels, has been shown to improve vascular endothelial function, and have antioxidant, anti-inflammatory, antihypertensive properties in experimental studies, with recent human clinical studies confirming these effects.
In the most recent report, people with type 2 diabetes received 500 mg of hesperidin once daily or placebo for 6 weeks and monitored for changes in blood pressure and inflammatory markers. Compared to placebo, hesperidin resulted in a significant reduction in systolic blood pressure and lowered inflammatory markers, including serum tumor necrosis factor alpha (TNF‐α), interleukin 6 (IL-6), and high-sensitivity C-reactive protein (hs-CRP).
The potential benefit of hesperidin is further supported by previous clinical trials suggesting a once-daily 500 mg dose stimulates production of nitric oxide in the vascular endothelium and improves vascular function [2], increases total antioxidant capacity, and reduces oxidative DNA damage, and lipid peroxidation [3].
Hesperidin appears to be a safe and effective way to lower inflammation, oxidative stress and blood pressure.
References:
1. Homayouni F, Haidari F, Hedayati M, Zakerkish M, Ahmadi K. Blood pressure lowering and anti-inflammatory effects of hesperidin in type 2 diabetes; a randomized double-blind controlled clinical trial. Phytother Res. 2018 Feb 22. doi: 10.1002/ptr.6046. [Epub ahead of print]
2. Rizza S, Muniyappa R, Iantorno M, Kim JA, Chen H, Pullikotil P, Senese N, Tesauro M, Lauro D, Cardillo C, Quon MJ. Citrus polyphenol hesperidin stimulates production of nitric oxide in endothelial cells while improving endothelial function and reducing inflammatory markers in patients with metabolic syndrome. J Clin Endocrinol Metab. 2011 May;96(5):E782-92.
3. Homayouni F, Haidari F, Hedayati M, Zakerkish M, Ahmadi K. Hesperidin Supplementation Alleviates Oxidative DNA Damage and Lipid Peroxidation in Type 2 Diabetes: A Randomized Double-Blind Placebo-Controlled Clinical Trial. Phytother Res. 2017 Oct;31(10):1539-1545.
Tags: Flavonoid, Diabetes, Heart Disease
Related Articles
Comments