Your heart loves a strawberry
Posted on Thu, 3 Jul 14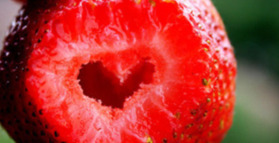 The shape and color of strawberries tellingly suggests they have affinity with your heart, and new research has found that enjoying strawberries does indeed give you a cardiovascular health lift.
Only a few studies have explored the health effects of eating strawberries, and new research has revealed impressive benefits of these extraordinarily nutritious fruits (1).
In the study, adding 500 g of fresh strawberries to people's diets for 30-days produced some striking effects; total cholesterol, low-density lipoprotein cholesterol and triglycerides levels were reduced by -8.78%, -13.72% and -20.80%, respectively. While biomarkers of antioxidant status, and red blood cell function and red blood cell resistance to oxidative damage were all significantly improved (2).
These findings are interesting, commented the study investigators, "because they may partly explain the protective role of a diet rich in fruit and vegetables in preventing cardiovascular disease and other chronic diseases mediated by oxidative stress."
Previous studies in people with a higher risk for heart disease including those with high cholesterol, blood pressure and metabolic syndrome have also revealed the heart health benefits of strawberries, and provide a good reason to enjoy the berries while they are in season (3,4).
References:
Giampieri F, Tulipani S, Alvarez-Suarez JM, Quiles JL, Mezzetti B, Battino M. The strawberry: composition, nutritional quality, and impact on human health. Nutrition. 2012 Jan;28(1):9-19.
Alvarez-Suarez JM, Giampieri F, Tulipani S, et al. One-month strawberry-rich anthocyanin supplementation ameliorates cardiovascular risk, oxidative stress markers and platelet activation in humans. J Nutr Biochem. 2014 Mar;25(3):289-94.

Basu A, Wilkinson M, Penugonda K, Simmons B, Betts NM, Lyons TJ. Freeze-dried strawberry powder improves lipid profile and lipid peroxidation in women with metabolic syndrome: baseline and post intervention effects. Nutr J. 2009 Sep 28;8:43.
Basu A, Fu DX, Wilkinson M, Simmons B, Wu M, Betts NM, Du M, Lyons TJ. Strawberries decrease atherosclerotic markers in subjects with metabolic syndrome. Nutr Res. 2010 Jul;30(7):462-9.
Tags: Strawberry, Heart Disease
Related Articles
Comments