License to eat badly: statin drugs
Posted on Sun, 27 Apr 14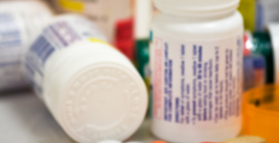 Calorie and fat consumption, along with body weight, has increased over the last 10-years in statin drug users according to a new large-scale study. Statins may be undermining efforts to promote healthy eating.
A large analysis of the diets of some 28,000 adults published in JAMA Internal Medicine has found that caloric intake was 10% greater, and fat intake 14% greater in 2009-2010 than in 1999-2000 among statins users. While people who were not taking statin drugs had no significant increase.
There was also a greater increase in body mass index (BMI) in statin users with a 1.3 unit increase vs. 0.4 units in non-statin users. The observed weight gain appears to be directly related to differences in diet with the study investigators calculating that "the estimated 192 calories per day increase among statin users could have contributed to the observed 1.3 increase in BMI (equivalent to a 3- to 5-kg weight gain) over a decade."
"We may need to reemphasize the importance of dietary modification for statin users" they concluded. "We believe that the goal of statin treatment, as with any pharmacotherapy, should be to allow patients to decrease risks that cannot be decreased without medication, not to empower them to put butter on their steaks."
"This discovery raises concerns of a potential moral hazard of statin use, in addition to the already known adverse effects" wrote journal editor Rita Redberg, MD, MSc. "Focusing on cholesterol levels can be distracting from the more beneficial focus on healthy lifestyle to reduce heart disease risk."
References:
Sugiyama T, Tsugawa Y, Tseng C-H, Kobayashi Y, Shapiro MF. Different time trends of caloric and fat intake between statin users and nonusers among US adults: gluttony in the time of statins? [published online April 24, 2014]. JAMA Intern Med. doi:10.1001/jamainternmed.2014.1927. - free full-text article.
Redberg, RF. Statins and Weight Gain. April 24, 2014 - free editors comment.
Tags: Statins, Heart Disease, Cholesterol
Related Articles
Comments