Protect your grey matter when it matters most
Posted on Fri, 22 Oct 10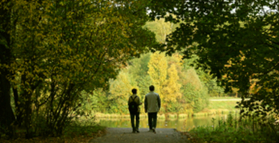 Increase the size of your grey matter and cut your risk of cognitive decline in half by taking a walk. A study published in the journal Neurology found that walking regularly now predicts whether or not your brain decreases in size and function later in life.
Approximately 300 older adults (mean age 78 years) reported how much they currently walked per week and were then assessed for cognitive function and brain size with an MRI scan 9 years later. It was found that those who walked at least 72 blocks (6–9 miles or 9.5-14.5 kilometres) a week had a significantly greater brain size and 2-fold lower risk of cognitive impairment.
"We can conclude that there is a relation between the amount of walking earlier in life and brain volume in later adulthood and that greater volume of tissue related to walking is associated with a reduced risk of cognitive impairment" commented the study investigators. Importantly this study suggests that regular walking protects the brain from degeneration during a time period of life when risk for dementia is greatest.
Reference:
Erickson KI, et al. Physical activity predicts gray matter volume in late adulthood: The Cardiovascular Health Study. Neurology. 2010 Oct 13. [Epub ahead of print]
Tags: Dementia, Cognitive Decline, Alzheimers Disease, Walking, Physical Activity
Related Articles
Comments