Drink tea away from food
Posted on Tue, 20 Feb 18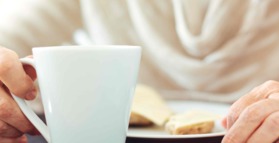 To get the most iron out of your breakfast, consider skipping the cup of tea. New study suggests consuming tea 1 hour away from food would maximize dietary iron absorption.
After water, tea is the most popular beverage in the world. Although there are lots of health benefits of drinking tea, it may contribute to iron deficiency.
A new study in the American Journal of Clinical Nutrition clearly shows that tea is a potent inhibitor of non-heme iron absorption from a cereal-based breakfast. This finding is important for a large portion of the population, point out the study investigators, as on average most women do not meet the recommended level of dietary iron intake.
"The inhibition of iron absorption by tea observed in this study could be due to the formation of insoluble iron-tannin complexes in the lumen of the gut," they suggest.
Their study found that drinking tea with a porridge meal decreased iron absorption by 37%, while drinking a cup of tea 1-hour after eating significantly attenuated the inhibitory effect, resulting in increased iron absorption.
"The findings of the present study may have implications in the management of iron deficiency, especially in at-risk groups predisposed to iron deficiency," noted the investigators. "Translating the findings of the present study into dietary advice at a health care level would help maximize dietary iron absorption, because tea is not only widely consumed in the UK but is extensively consumed worldwide."
Reference:
Ahmad Fuzi SF, Koller D, Bruggraber S, Pereira DI, Dainty JR, Mushtaq S. A 1-h time interval between a meal containing iron and consumption of tea attenuates the inhibitory effects on iron absorption: a controlled trial in a cohort of healthy UK women using a stable iron isotope. Am J Clin Nutr. 2017 Dec;106(6):1413-1421.
Related Articles
Comments