Bananas vs. Gatorade for sports performance
Posted on Mon, 9 Jul 12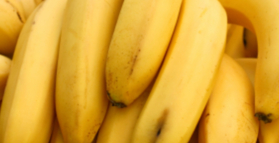 Bananas are as effective and a cheaper, healthier alternative to sports drinks a study has shown.
Bananas were compared to a commercial sports drink (Gatorade) in a group of 14 cyclists. Bananas or sports drinks were consumed at a rate of 0.2 g/kg carbohydrate every 15 min (and one 0.4 g/kg carbohydrate dose pre-exercise), or about 6-7 bananas, over 3 hours of intense physical activity (a 75 km ride).
There were no differences in performance, inflammation and changes in innate immune function between bananas and the sports drink.
One notable difference was a lower measure of oxidative stress and higher levels of dopamine in the banana group. Bananas are a natural source of dopamine, which while known for its influence on mood cannot cross the blood brain barrier, but does act as an antioxidant.
"In general, ingestion of bananas before and during prolonged and intensive exercise is an effective strategy, both in terms of fuel substrate utilization and cost, for supporting performance" concluded the study investigators.
Reference:
Nieman DC, Gillitt ND, Henson DA, Sha W, Shanely RA, Knab AM, Cialdella-Kam L, Jin F. Bananas as an Energy Source during Exercise: A Metabolomics Approach. PLoS One. 2012;7(5):e37479. Epub 2012 May 17.
Tags: Banana, Sports Performance, Exercise
Related Articles
Comments