Walking after meals best
Posted on Wed, 7 Dec 16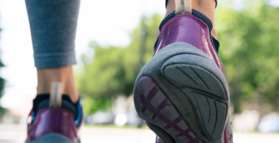 Advice to walk after meals is better for improving your metabolism than general advice that does not specify timing, suggesting we should re-think exercise recommendations.
High post meal elevations in blood glucose are a strong independent risk factor for cardiovascular disease, and single meals studies have suggested that exercise after eating is excellent at lowering blood glucose and mitigating risk.
However, no studies have ever examined advice to specifically increase activity after eating in the longer term. So to examine potential benefits adults with type 2 diabetes mellitus were advised to either walk for 30 minutes each day, or specifically walk for 10 min after each main meal.
It was found that the post-meal specific advice resulted in significantly lower blood glucose after eating, with particularly striking benefits after the evening meal when the most carbohydrate was consumed and sedentary behaviours were highest. And advice to walk after each main meal resulted in significantly greater overall activity.
"The benefits relating to physical activity following meals suggest that current guidelines should be amended to specify post-meal activity, particularly when meals contain a substantial amount of carbohydrate," concluded the study investigators.
Reference:
Reynolds AN, Mann JI, Williams S, Venn BJ. Advice to walk after meals is more effective for lowering postprandial glycaemia in type 2 diabetes mellitus than advice that does not specify timing: a randomised crossover study. Diabetologia. 2016 Dec;59(12):2572-2578.
Tags: Walking, Diabetes, Wellness, Fitness, Exercise
Related Articles
Comments