Water for weight loss and fussy eating
Posted on Fri, 1 Jun 12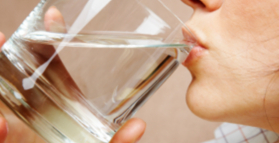 Two recent studies link drinking water to weight loss. Switching overweight adults to water reduced their weight, and kids ate more vegetables.
The first study, in the American Journal of Clinical Nutrition, reported for the first time that switching overweight and obese adults from caloric beverages to water for 6 months improved fasting glucose, hydration and weight-loss.
A second report published in the journal Appetite found that giving young children water instead of sweetened drinks with meals reduced fussy eating and led to higher vegetable consumption.
The message is as clear as water: drinking water instead of beverages that contain calories is a simple way to promote healthier eating in kids and weight loss in adults.
References:
1. Tate DF, Turner-McGrievy G, Lyons E, Stevens J, Erickson K, Polzien K, Diamond M, Wang X, Popkin B. Replacing caloric beverages with water or diet beverages for weight loss in adults: main results of the Choose Healthy Options Consciously Everyday (CHOICE) randomized clinical trial. Am J Clin Nutr. 2012 Mar;95(3):555-63.
2. Cornwell TB, McAlister AR. Contingent choice. Exploring the relationship between sweetened beverages and vegetable consumption. Appetite. 2012 May 14. [Epub ahead of print]
Tags: Water, Overweight, Obesity, Weight Loss
Related Articles
Comments