Vitamin D recommendations for pregnancy far too low
Posted on Mon, 17 Oct 11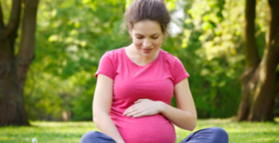 Current vitamin D recommendations during pregnancy may be far too low suggests a study showing that 4000 IU a day was needed to raise blood vitamin D levels close to an optimal level.
Vitamin D deficiency is a worldwide health issue affecting almost everyone. In fact deficiency is so common experts recommend everyone should take a daily vitamin D supplement (1). There remains some debate however as to what the optimal amount of daily vitamin D is.
This is an important issue for pregnant women as vitamin D plays a vital role in ensuring a healthy pregnancy and baby (2). So to see what dose of vitamin D was required to raise blood vitamin D levels to an optimal level a group of pregnant women were divided into groups that received either 400, 2000 or 4000 IU vitamin D3 from 12-16 weeks of the pregnancy until delivery.
It was found that "vitamin D supplementation of 4,000 IU per day for pregnant women was safe and most effective in achieving sufficiency in all women and their neonates." In comparison, the currently recommended amount of vitamin D (400 IU) was ineffective at achieving adequate blood vitamin D levels.
This evidence highlights an urgent need for reappraisal of current vitamin D recommendations.
References:
1. Holick MF. The D-lemma: to screen or not to screen for 25-hydroxyvitamin D concentrations. Clin Chem. 2010 May;56(5):729-31.2.
2. Dror DK, Allen LH. Vitamin D inadequacy in pregnancy: biology, outcomes, and interventions. Nutr Rev. 2010 Aug;68(8):465-77.
3. Hollis BW, Johnson D, Hulsey TC, Ebeling M, Wagner CL. Vitamin D supplementation during pregnancy: Double blind, randomized clinical trial of safety and effectiveness. J Bone Miner Res. 2011 Jun 27. doi: 10.1002/jbmr.463. [Epub ahead of print]
Related Articles
Comments