Multivitamins benefit mother and baby
Posted on Mon, 3 Oct 11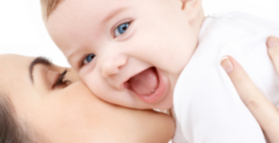 Low birth weight babies are at higher risk of illnesses such as diabetes, obesity and heart disease throughout childhood and in adult life. Inadequate intake of vitamins and minerals has been associated with low birth weight and a simple multivitamin may help.
Malnutrition and low birth weight babies are not only a major issue in developing countries, socially and economically disadvantaged people in industrialised countries are frequently affected as well.
In Hackney, East London a research project funded by the Mother and Child Foundation set out to see if providing a multivitamin and mineral supplement to mothers made a difference to nutritional status and pregnancy outcomes.
Before commencing the study it was found that 13% of mothers to be had iron deficiency anaemia, 72% were vitamin D deficient, 12% had vitamin B1 deficiency and 5% were deficient in folate. From the first trimester the women were given placebo or a multivitamin.
Unfortunately only 39% of women completed the study, which as the investigators point out "reflects a lack of interest in health and poor knowledge of the relationship between nutrition and pregnancy outcome."
However those who took the multivitamins had improved nutritional status for measures of iron, folate, vitamin B1 and vitamin D. There was also a trend towards fewer low birth weight babies in women taking multivitamins (eight vs. thirteen in the placebo group) which corroborates with previous research.
"Multiple-micronutrient supplements from early pregnancy may be beneficial and larger studies are required to assess impact on birth outcomes and infant development" wrote the study investigators. The potential for something as simple as a daily multivitamin and mineral to improve health outcomes for future generations could be enormous.
Reference:
1. Brough L, Rees GA, Crawford MA, Morton RH, Dorman EK. Effect of multiple-micronutrient supplementation on maternal nutrient status, infant birth weight and gestational age at birth in a low-income, multi-ethnic population. Br J Nutr. 2010 Aug;104(3):437-45.
Tags: Low Birth Weight, Pregnancy, Multivitamin
Related Articles
Comments