Child abuse or vitamin D deficiency?
Posted on Sun, 8 Jan 12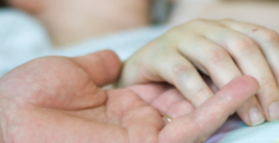 Parents may be wrongly accused of child abuse when the problem is actually vitamin D deficiency. This was recently highlighted in a case in England where parents were cleared of murder charges after vitamin D deficiency was identified. But how many others have been wrongly accused?
"Last month, Rohan Wray and Chana Al-Alas walked free from the Old Bailey court in London after being cleared of killing their 4-month-old son Jayden in 2009. The injuries to his skull, knee, elbow, shoulder, hip, ankle and wrist - and haemorrhages in his skull and eyes - had seemed to suggest that the pair was responsible for their baby's death" reported New Scientist.
On post mortem however it was discovered that Jayden had Rickets, a severe symptom of vitamin D deficiency which causes bone weakness and can lead to breaks and injury.
Commenting on the study, Dr John Cannell of the vitamin D council highlighted the dangers of a misdiagnosis of child abuse. "If the infant had lived, the state would have taken the infant away, given it formula (with vitamin D) thus destroying the evidence of vitamin D deficiency and jailed the couple for felony child abuse. Only the infant's death kept the parents out of prison" he said.
Vitamin D deficiency is a worldwide problem and the incidence Rickets is on the increase. In cases of reported child abuse a diagnosis of vitamin D deficiency should be ruled out before a diagnosis of child abuse is made.
Click here for vitamin D guidlines for infancy, lactation and pregnancy.
References:
1. Coghlan A. Murder trial highlights return of Dickensian killer. 05 January 2012, New Scientist. Link.
2. Canell J. Controversy continues in rickets vs. child abuse cases in England. January 5, 2012. The Vitamin D Council. www.vitamindcouncil.org
3. Naseem H, Wall AP, Sangster M, Paton RW. The presentation of rickets to orthopaedic clinics: return of the English disease. Acta Orthop Belg. 2011 Apr;77(2):239-45.
Related Articles
Comments