The benefits of meditation
Posted on Sun, 27 Feb 11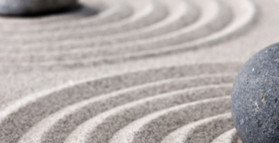 How would you feel being buried alive for a day? Slightly stressed? A yogi once sat buried underground cross-legged for 62 hours, he was being monitored medically and showed no signs of distress. You too can use meditation to reduce stress and improve your wellbeing.
You don't need to be a yogi to practice meditation, just a few basic exercises and as little as 15 minutes of your day. This ancient mind-body practice is finding its place in modern medicine.
Studies of meditation have suggested benefit in the treatment of tension headaches, psoriasis, high blood pressure, high cholesterol, stopping smoking, alcohol abuse, heart disease, longevity and cognitive function in the elderly, mental health disorders, excessive worry, chronic pain, depression, anxiety, fibromyalgia, cancer diagnoses, obesity and eating disorders.
Meditation works by changing the way your brain functions, activating brain areas involved in feelings of joy, happiness and wellbeing while reducing neurological processes that lead to pain, anxiety, stress and worry. If you want to change your brain, give this simple meditation technique a try.
References:
1. Vakil R. Remarkable feat of endurance of a yogi priest. Lancet 1950;2:871.
2. Fortney L, Taylor M. Meditation in medical practice: a review of the evidence and practice. Prim Care. 2010 Mar;37(1):81-90.
3. Newberg AB, Iversen J. The neural basis of the complex mental task of meditation: neurotransmitter and neurochemical considerations. Med Hypotheses. 2003 Aug;61(2):282-91.
Tags: Meditation, Stress, Relaxation
Related Articles
Comments