Sugary cause of digestive problems
Posted on Wed, 19 Aug 09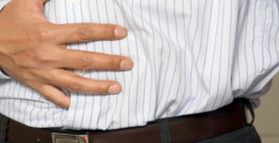 Do you suffer from frequent abdominal pain and discomfort, diarrhoea or a sense of urgency, constipation or straining, bloating and distension? Chances are you do, these are the symptoms of Irritable Bowel Syndrome (IBS), a condition that affects 1 in 5 people. What many people don't know is that these symptoms may be caused by intolerance to a natural sugar found in common foods called fructose (1).
Misdiagnosed malady
Unfortunately fructose intolerance is often overlooked medically as a cause of IBS. It has been found that people with intolerance to fructose most commonly suffer from symptoms such as gas (83%), pain (80%), bloating (78%), belching (70%), and constipation or diarrhoea (65%) (2). Fructose intolerance may be the underlying cause in as many as 30% of IBS sufferers (1)
Simple solution
A simple breath test (the Hydrogen Breath Test) can confirm fructose intolerance and a supervised dietary program designed to limit intake of fructose, which naturally occurs in, or may be added to many common foods, has proven to be successful in managing common digestive complaints (3).
References
1. Choi YK et al. Fructose intolerance in IBS and utility of fructose-restricted diet. Clin Gastroenterol. 2008 Mar;42(3):233-8.
2. Choi YK et al. Fructose intolerance: an under-recognized problem. Am J Gastroenterol. 2003 Jun;98(6):1348-53.
3. Shepherd SJ, Gibson PR. Fructose malabsorption and symptoms of irritable bowel syndrome: guidelines for effective dietary management. Am Diet Assoc. 2006 Oct;106(10):1631-9.
Tags: Fructose, Irritable Bowel Syndrome
Related Articles
Comments