Pomegranate relieves rheumatoid arthritis
Posted on Wed, 15 Feb 17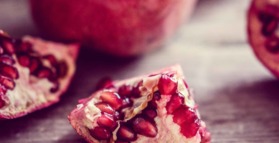 A clinical study has demonstrated a good therapeutic effect of pomegranate extract in people with rheumatoid arthritis, with reductions in inflammation and pain.
Pomegranate fruit is a rich source of phytonutrients with potent anti-inflammatory activity and a small pilot study previously suggested it may be a safe way to reduce inflammation in people with rheumatoid arthritis [1].
To further investigate the therapeutic potential of pomegranate a controlled clinical trial was conducted over 8-weeks, during which time people with rheumatoid arthritis received either pomegranate extract (500 mg daily providing 40% ellagic acid) or placebo [2].
Those taking the pomegranate extract, when compared to placebo, had a significant reduction in symptoms, including decrease in swollen and tender joints, morning stiffness, and pain intensity. And blood tests improved too, with reductions in inflammation (erythrocyte sedimentation rate) and an increase in antioxidant defences (glutathione peroxidase).
"Various studies suggested that due to their vitamins, minerals and phytochemical content, fruits and vegetables have protective effects on the progression of rheumatoid arthritis," noted the study investigators. "However, only a few studies have been performed [.....]. With respect to the improvement of disease activity and some blood biomarkers in the present study, our results may show the beneficial antioxidant and anti-inflammatory effects of pomegranate in rheumatoid arthritis patients."
References:
Balbir-Gurman A, Fuhrman B, Braun-Moscovici Y, et al. Consumption of pomegranate decreases serum oxidative stress and reduces disease activity in patients with active rheumatoid arthritis: a pilot study. Isr Med Assoc J. 2011 Aug;13(8):474-9.
Ghavipour M, Sotoudeh G, Tavakoli E, et al. Pomegranate extract alleviates disease activity and some blood biomarkers of inflammation and oxidative stress in Rheumatoid Arthritis patients. Eur J Clin Nutr. 2017 Jan;71(1):92-96.
Tags: Pomegranate, Rheumatoid Arthritis, Inflammation
Related Articles
Comments