Out now! The Digestive Health Solution
Posted on Sun, 22 Feb 15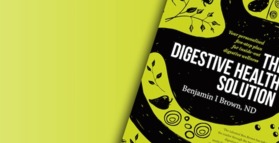 This week The Digestive Health Solution is officially out in the United Kingdom, Australia and New Zealand (Canada & US in April). Learn more about the book here...
Digestive health is one of the most important topics in health & wellbeing with 1 in 4 people experiencing regular digestive discomfort and new scientific discoveries proving that better digestive health can transform the health of your whole body!
The Digestive Health Solution is a revolutionary book at the cutting edge of the current science and separates itself from the pop health fads with its evidence-based approach.
Listen to Ben introduce The Digestive Health Solution:
Explore vital topics, including:
Why digestive health is linked to fatigue, anxiety, insomnia and more
How certain sugars can be to toxic to your gut health
The truth behind the popular low-FODMAP diet
The gluten intolerance controversy
The crucial role of gut bacteria
How to uncover unexpected problem foods
Research on beneficial foods, herbs & supplements
New ways to revitalise your digestion, fast
With wonderful clarity the book ultimately brings together the best natural solutions in an easy-to-follow 5-step personalized plan, providing answers that matter.
Buy a copy, Learn more:

Tags: Digestive Health
Related Articles
Comments