Aloe vera juice for irritable bowel syndrome
Posted on Sat, 3 May 14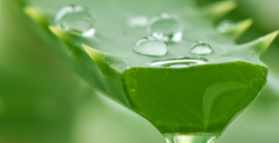 Can Aloe vera juice help reduce the symptoms of irritable bowel syndrome (IBS) – bloating, constipation, diarrhea, pain, and discomfort? Decades of clinical research helps answer this question.
The use of Aloe vera as a medicine dates back thousands of years but it wasn't until 1963 that scientific research started to explore the effects of Aloe vera on digestive health. At this time a preliminary study reported a remarkable healing effect in people with peptic ulcers (1).
Since then Aloe vera juice has been shown to improve gastrointestinal health by restoring bacterial balance, enhancing digestion, increasing absorption of nutrients and reducing inflammation (2-4).
And for people with the symptoms of IBS, three clinical studies have tested the effects of Aloe vera:
The first study found that 35% of people taking Aloe vera juice for 1-month had a beneficial effect vs. 22% taking a placebo (5). And people who had diarrhea predominant symptoms had an even better response rate of 43%.
Then a second study failed to find any beneficial effect of Aloe vera, but the researchers pointed out that problems with the study might have affected the results (6).
And most recently Aloe vera juice for 8-weeks significantly reduced abdominal pain and discomfort as well as flatulence in patients with constipation predominant IBS that were not improving with other treatments (7).
Although these studies are small the evidence suggests Aloe vera could help with IBS symptoms while improving your overall digestive health at the same time.
If you want to try Aloe vera juice keep in mind it can significantly improve your blood sugar, which is great news, but if you are on diabetic medication you should to speak to your doctor first (8).
And buy the inner leaf juice, as this does not have the strong laxative effect of whole leaf preparations.
The recommended amount to take is about 100 ml twice daily.
Has Aloe vera juice worked for you? Share your experience with others below:
References:
Blitz JJ, Smith JW, and Gerard JR. Aloe vera gel in peptic ulcer therapy: preliminary report. J. Am. Osteopath. Assoc. 1963; 62:731–735.
Bland J. Effect Of Orally Consumed Aloe Vera Juice On Gastrointestinal Function In Normal Humans. Preventive Medicine. 1985;14(2).
Yun JM, Singh S, Jialal R, Rockwood J, Jialal I, Devaraj S. A randomized placebo-controlled crossover trial of aloe vera on bioavailability of vitamins C and B(12), blood glucose, and lipid profile in healthy human subjects. J Diet Suppl. 2010 Jun;7(2):145-53.
Langmead L, Feakins RM, Goldthorpe S, et al. Randomized, double-blind, placebo-controlled trial of oral aloe vera gel for active ulcerative colitis. Aliment Pharmacol Ther. 2004;19(7):739-47.
Hutchings HA, Wareham K, Baxter JN, et al. A Randomised, Cross-Over, Placebo-Controlled Study of Aloe vera in Patients with Irritable Bowel Syndrome: Effects on Patient Quality of Life. ISRN Gastroenterol. 2011;2011:206103
Davis K, Philpott S, Kumar D, Mendall M. Randomised double-blind placebo-controlled trial of aloe vera for irritable bowel syndrome. Int J Clin Pract. 2006 Sep;60(9):1080-6.
Khedmat H, Karbasi A, Amini M, et al. Aloe vera in treatment of refractory irritable bowel syndrome: Trial on Iranian patients. J Res Med Sci. 2013 Aug;18(8):732.
Huseini HF, et al. Anti-hyperglycemic and anti-hypercholesterolemic effects of Aloe vera leaf gel in hyperlipidemic type 2 diabetic patients: a randomized double-blind placebo-controlled clinical trial. Planta Med. 2012 Mar;78(4):311-6.
Tags: Aloe Vera, Ibs, Irritable Bowel Syndrome, Digestive Health
Related Articles
Comments