Organic diet reduces toxic chemical exposure
Posted on Thu, 7 Mar 19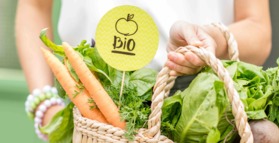 Further support for organic food comes from a new study showing that an organic diet quickly reduces exposure to toxic pesticides and herbicides.
"Exposure to pesticides has been associated with various adverse health outcomes, including decreased cognitive scores, and increased behavioural and attention problems in children, asthma, cancer, and impacts on the reproductive and endocrine system," point out the authors of a new study assessing the ability of an organic diet to reduce exposure.
Previous studies have found that organic diets can reduce pesticide exposure, but these have focused on organophosphate pesticides, which are now declining in use and being replaced with other pesticides. So to see if an organic diet would influence exposure to pyrethroid and neonicotinoid pesticides, fungicides, and a herbicide, a study was conducted in a group of adults and children.
For the first five days of the study participants were asked to follow their normal non-organic diet, then from days six to eleven they were provided with certified organic food including all beverages other than water, oils, condiments, and spices. Urine samples were collected before and after the diet and analysed for eighteen pesticide analytes.
The tests detected 14 pesticides and pesticide metabolites in all of the study participants' urine representing potential exposure to over 40 different pesticides including organophosphate, neonicotinoid, and pyrethroid insecticides as well as the herbicide 2,4-D. After the organic diet urinary levels of 13 exposure biomarkers decreased significantly. Only 1 organophosphate metabolite did not change. The largest reductions were observed for clothianidin and metabolites of malathion and chlorpyrifos.
Collectively, the changes in urinary biomarkers after the organic diet represent significant reductions in exposure to organophosphate, neonicotinoid, and pyrethroid insecticides and the herbicide 2,4-D.
"An organic diet was associated with significant reductions in urinary excretion of several pesticide metabolites and parent compounds," concluded the study investigators. "This study adds to a growing body of literature indicating that an organic diet may reduce exposure to a range of pesticides in children and adults. Additional research is needed to evaluate dietary exposure to neonicotinoids, which are now the most widely used class of insecticides in the world."
Reference:
Hyland C, Bradman A, Gerona R, et al. Organic diet intervention significantly reduces urinary pesticide levels in U.S. children and adults. Environ Res. Volume 171, April 2019, Pages 568-575.
Tags: Toxins, Pesticides, Detox, Organic
Related Articles
Comments