Mimicking an ancient lifestyle improves health
Posted on Wed, 16 Nov 16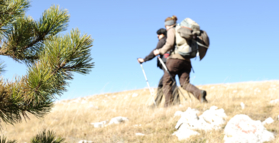 It has been proposed that more traditional lifestyles are associated with better health, but few studies have examined the effects of reverting to a more ancient lifestyle. A new study put exactly that to the test.
A mismatch between our biology and modern environmental factors and lifestyle - such as processed foods, sedentary behaviour, and lack of exposure to natural environments - is known to play a fundamental role on the development of chronic diseases, in part because of adverse effects on the immune system and activation of a chronic, low-grade inflammatory response.
Building on this idea a research collaborative hypothesise that exposure to "ancient mild stress factors," present in traditional lifestyles but missing in the modern world including physical exercise, thirst, hunger, and climate, could have an anti-inflammatory effect, improve metabolism and mitigate disease.
To test this idea, they took people back to nature.
Over 10-days 55 people hiked through the Pyrenees. They walked 14 km/day on average, carried an 8-kilo backpack, ate raw food, and drank water from waterholes. And they slept outside in sleeping bags and were exposed to temperatures ranging from 12 to 42°C.
At the end of the journey the vast majority enjoyed the trip and felt healthier and recovered from Western stressful life, but the biochemical data was most interesting.
Testing before and after found:
Reduced body weight and BMI (median change 4.8%),
Lower hip circumference (3%),
Lower waist circumference (5.6%)
Lower waist/hip ratio (2.5%)
Lower blood glucose (12.5%),
Lower blood insulin (55%),
Lower insulin resistance (HOMA-IR) (58.1%),
Better blood glucose control (HbA1c) (1.8%),
Lower triglycerides (20%),
Lower total cholesterol (13.7%),
Lower LDL-cholesterol (21.9%), and
Lower triglycerides/HDL-cholesterol ratio
Curiously there was an increase in liver abnormalities and inflammation (ASAT and ALAT increased by 48.0% and 35.7%, respectively, while CRP increased by 110.1%), however this could be explained by the physical activity, mild gastrointestinal infections from drinking water from waterholes, or small injuries on the legs and arms inflicted by thorns and falls, point out the study authors.
Commenting on their findings the investigators said, "the outcome of this 10-day "study of origin" suggests that a short period of return to the "conditions of existence" similar to those on which our genome is based may improve anthropometrics and metabolism by favorably challenging the immune system in apparently healthy subjects."
Reference:
Pruimboom L, Ruiz-Núñez B, Raison CL, Muskiet FA. Influence of a 10-Day Mimic of Our Ancient Lifestyle on Anthropometrics and Parameters of Metabolism and Inflammation: The "Study of Origin". Biomed Res Int. 2016;2016:6935123.
Tags: Hunter Gatherer, Paleo, Traditional Diet, Lifestyle Medicine
Related Articles
Comments