Lipoic acid for weight loss
Posted on Mon, 12 Sep 11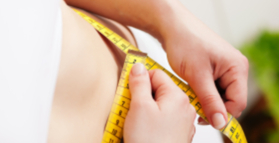 Lipoic acid is a natural supplement that has anti-obesity effects and thus may be a weight loss aid. Recent human clinical studies suggest lipoic acid is indeed effective for weight reduction.
An Italian study investigated lipoic acid (800 mg per day) in over 1000 men and women (1). Over 4 month's lipoic acid significantly reduced body weight (9% reduction for both gender), body mass index (women 3 point and men 4 point reduction), waist circumference (women 9 cm and men 11 cm reduction) and blood pressure.
A more recent Korean study gave a higher dose of lipoic acid (1800 mg per day) for 5 months to a group of obese individuals (2). Lipoic acid resulted in a modest but measureable decrease in body weight leading the investigators to conclude that "alpha-lipoic acid may be considered as adjunctive therapy for obesity."
Experimental studies suggest lipoic acid increases metabolic rate and decreases food intake which may in part explain its observed effects (3). More research is needed on this promising weight loss aid.
Sources:
1. Carbonelli MG, Di Renzo L, Bigioni M, et al. Alpha-lipoic acid supplementation: a tool for obesity therapy? Curr Pharm Des. 2010;16(7):840-6.
2. Koh EH, Lee WJ, Lee SA, et al. Effects of alpha-lipoic Acid on body weight in obese subjects. Am J Med. 2011 Jan;124(1):85.e1-8.
3. Doggrell SA. Alpha-lipoic acid, an anti-obesity agent? Expert Opin Investig Drugs. 2004 Dec;13(12):1641-3.
Tags: Lipoic Acid, Weight Loss, Obesity
Related Articles
Comments