Higher dietary flavonoids prevent obesity
Posted on Wed, 15 Feb 17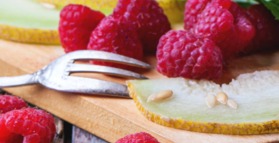 People who eat more dietary flavonoids are protected against weight gain, and these phytonutrients outdo genetic influences. Colour is the new calories.
Some years ago one of the first studies to find a link to phytonutrients and body weight discovered that people who consumed more phytonutrients were more likely to be a healthier weight, regardless of calories [1]. This is may due to anti-obesity effects of phytonutrients found in plant-foods [2]. Recently, two important studies have strengthened the case for phytonutrients.
The first, in the British Medical Journal, was an analysis of the association between dietary intakes of flavonoids and body weight measures in some 124,086 men and women over 24 years. The study found that increased consumption of flavonoids was associated with less weight gain [3].
And the second, in the American Journal of Clinical Nutrition, set out to see if genetic factors play a role by comparing the diets of twins. Phytonutrients are more powerful than genetic influences it seems, because flavonoids were associated with lower fat mass independent of shared genetic factors [4].
So, while it is generally important to eat mostly plants, specifically eating more flavonoid-rich fruits and vegetables, such as deeply-coloured grapes, apples, pears, berries, peppers, as well as cocoa and tea, may help with weight control.
References:
Tags: Phytonutrients, Flavonoids, Obesity, Overweight
Related Articles
Comments