Cinnamon keeps your blood sugar sweet, suggests new analysis
Posted on Wed, 11 Sep 13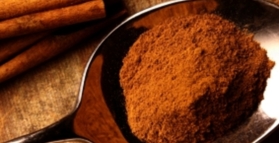 An analysis of 10 clinical trials has concluded that cinnamon may be a useful addition to diabetes treatment. The researchers found that cinnamon has a beneficial effect on fasting plasma glucose, LDL-cholesterol, HDL-cholesterol, and triglyceride levels in patients with type 2 diabetes.
Compared to medications the reduction in fasting glucose from cinnamon (–24.59 mg/dL) was lower than metformin (–58 mg/dL) and superior to sitagliptin (–16 to –21 mg/dL).
Most studies used Cinnamon either as powder or capsule at a daily dose of 1-6 grams (1 teaspoon of cinnamon is approximately 3 grams) generally taken with meals.
If you plan to use a cinnamon product source a supplement that has a low level of coumarin, a naturally occurring phytochemical that can be toxic if consumed in excess. Or use Ceylon cinnamon (Cinnamomum verum), also known as "true cinnamon" which is naturally very low in coumarin.
References:
1. Allen RW, Schwartzman E, Baker WL, Coleman CI, Phung OJ. Cinnamon use in type 2 diabetes: an updated systematic review and meta-analysis. Ann Fam Med. 2013 Sep-Oct;11(5):452-9.
2. Abraham K, Wöhrlin F, Lindtner O, Heinemeyer G, Lampen A. Toxicology and risk assessment of coumarin: focus on human data. Mol Nutr Food Res. 2010 Feb;54(2):228-39.
Tags: Cinnamon, Diabetes, Blood Sugar
Related Articles
Comments