Brain food: diet linked to IQ
Posted on Sun, 19 Aug 12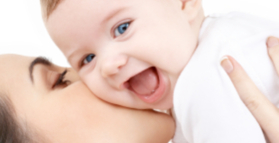 Two independent studies have recently linked healthy eating in early childhood to a better IQ later in life.
An Australian study found that breastfeeding and a healthier diet (containing herbs, legumes, cheese, raw fruit and vegetables as well as home-made/ cooked meat, vegetables and desserts) early in life was associated with a higher IQ at 8 years old. Unhealthy foods (such as ready-prepared baby foods and meal, biscuits, chocolate, sweets, soda, crisps) however appeared to lower IQ.
The second study, from the University of Bristol, UK, also found a relationship between food and IQ. They found a 'processed diet' (high fat and sugar content) around 3 years of age was associated with a reduced IQ at 8.5 years while a 'health-conscious diet' (salad, rice, pasta, fish, fruit) was related to a higher IQ.
Diet supplies important nutrients for the development of the brain and nervous system during the first few years of life. Poor diet quality is known to have a major impact on mental health, not only IQ but also mood and behavioral disorders.
Speaking on the link between diet and mental health Professor Michael Crawford, director of the Institute of Brain Chemistry and Human Nutrition has said; "someone once said that we could become a nation of morons and that prediction is coming true. It is very scary. If this rise continues it will threaten the sustainability of medical health and the peace and happiness of mankind. It is the most severe threat we have ever faced."
References:
Smithers LG, Golley RK, Mittinty MN, Brazionis L, Northstone K, Emmett P, Lynch JW. Dietary patterns at 6, 15 and 24 months of age are associated with IQ at 8 years of age. Eur J Epidemiol. 2012 Jul;27(7):525-35.
Northstone K, Joinson C, Emmett P, Ness A, Paus T. Are dietary patterns in childhood associated with IQ at 8 years of age? A population-based cohort study. J Epidemiol Community Health. 2012 Jul;66(7):624-8.
Tags: Diet, Mental Health
Related Articles
Comments