Blueberries: not too little, not too much.
Posted on Sun, 22 Sep 13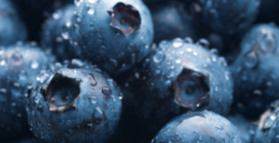 A new study suggests that when it comes to the heart health benefits of blueberries, less is more. The benefits peaked at a particular serving size, with no additional advantage from more berries.
To see if different amounts of blueberry in a single meal would have different effects on cardiovascular function researchers gave people several "doses" of blueberry ranging from 100 to 560 grams equivalent of fresh blueberries and measured changes in their cardiovascular system over the following 6 hours.
Interestingly they found the ability of blueberry to improve vascular health (measured as endothelium-dependent vasodilation) peaked at 1 hour after consumption of the 240 gram dose, with higher doses of up to 560 grams having no additional benefit.
This is not the first time that phytonutrient rich super foods like blueberries have been shown to have a "less is more" effect. In fact, studies of cocoa suggest the benefits start to reverse with too much of a good thing.
References:
1. Rodriguez-Mateos A, Rendeiro C, Bergillos-Meca T, Tabatabaee S, George TW, Heiss C, Spencer JP. Intake and time dependence of blueberry flavonoid-induced improvements in vascular function: a randomized, controlled, double-blind, crossover intervention study with mechanistic insights into biological activity. Am J Clin Nutr. 2013 Sep 4. [Epub ahead of print]
2. Shrime MG, Bauer SR, McDonald AC, Chowdhury NH, Coltart CE, Ding EL. Flavonoid-rich cocoa consumption affects multiple cardiovascular risk factors in a meta-analysis of short-term studies. J Nutr 2011;141:1982–8.
Related Articles
Comments