Blueberries improve mood within hours
Posted on Tue, 14 Mar 17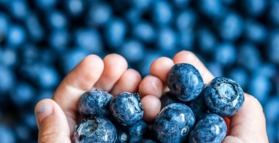 Flavonoid-rich wild blueberries have been shown to have measurable effects on positive mood within 2 hours of eating them.
Higher consumption of fruits and vegetable has been associated with better mental health and mitigating depression, a benefit that is thought to be in part due to flavonoids, phytonutrients found in these foods.
Flavonoid-rich fruits and vegetables such as wild blueberries are therefore of interest to improve mental wellbeing, but little is known about acute effects on mood.
To assess the effects of wild blueberries a group of children and young adults consumed a serving and then had their mood assessed post-consumption.
Consuming blueberries improved positive affect - a measure of positive moods such as joy, interest, and alertness - 2-hours after consumption.
Commenting on their findings the investigators noted that, "although preliminary, these results are intriguing and warrant focused investigation of the relationship between flavonoids and mood, as well as with mental health more generally."
Possible mechanisms for the mood enhancing effects include an increase cerebral blood flow, monoamine oxidase (an enzyme involved in serotonin, dopamine, and noradrenaline metabolism) inhibition, and anxiolytic-like effects by binding to benzodiazepine receptors, they suggested.
Reference:
Khalid S, et al. Effects of Acute Blueberry Flavonoids on Mood in Children and Young Adults. Nutrients. 2017 Feb 20;9(2)
Tags: Brain Health, Depression, Berries
Related Articles
Comments