A fruitful way to lose weight
Posted on Wed, 12 May 10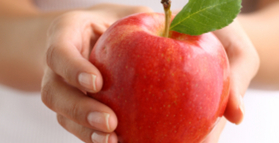 An apple, or three, a day may be a safe, cheap way to lose excess weight. A number of studies suggest that enjoying an apple before a meal will help you feel more satisfied and eat less without even thinking about it.
Crunching the kilos
Two investigations have found that three eating apples, or pears, between meals as snacks can help reduce hunger and result in significant weight loss (about a kilogram) within 10-12 weeks (1-2). This finding suggests that simply adding fruit to your diet may help maintain a healthy body weight. However, the way in which you eat your fruit is important if you are to benefit.
Natural is best
Apples and pears may help with weight loss because they have a low energy density, meaning there is a low amount of energy (calories) in the total food item. In contrast apple sauce and juice have a decreased water volume compared to the fresh fruit and contain more energy per serving. In fact it has been found that a fresh apple is far better at reducing appetite and energy intake than apple sauce, or juice (3). If you want to lose weight why not eat more (fresh fruit that is)? It could help you eat less.
References
1. Conceição de Oliveira M, Sichieri R, Sanchez Moura A. Weight loss associated with a daily intake of three apples or three pears among overweight women. Nutrition. 2003 Mar;19(3):253-6.
2: Conceição de Oliveira MC, Sichieri R, Venturim Mozzer R. A low-energy-dense diet adding fruit reduces weight and energy intake in women. Appetite. 2008 Sep;51(2):291-5.
3. Flood-Obbagy JE, Rolls BJ. The effect of fruit in different forms on energy intake and satiety at a meal. Appetite. 2009 Apr;52(2):416-22.
Tags: Apples, Pears, Fruit, Diet, Weight Loss
Related Articles
Comments