What happens to your body after you eat broccoli?
Posted on Wed, 11 Sep 13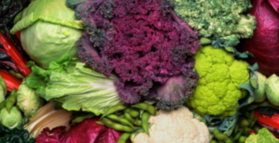 Broccoli is a super food, not only is it nutritious it is a rich source of phytochemicals that increase your natural defenses against oxidative stress, and DNA damage.
Not surprisingly broccoli and other brassica vegetables have been shown to protect against a number of chronic diseases including some cancers.
So what happens when you eat broccoli. To find out a group of smokers (who already have high levels of oxidative stress and DNA damage) ate 250 g of steamed broccoli and were tested over the next 24 hours.
This is what the researchers found.
After 3 hours their:
Blood level of vitamin C increased by 35%
Blood level of folate increased by 70%
After 6 hours their:
Blood levels of β-carotene levels increased by 8%
Bodies antioxidant defense system (glutathione S-transferase) became activated.
And after 24 hours:
A significant reduction of the levels of oxidative stress (H2 O2) -induced DNA damage (-18%) occurred in a genetic subgroup of "broccoli responders."
Something to think about next time you enjoy some broccoli; not only is it nutritious but activating your bodies defenses against DNA damage and disease for over 24 hours afterwards.
References:
1. Riso P, Del Bo' C, Vendrame S, Brusamolino A, Martini D, Bonacina G, Porrini M. Modulation of plasma antioxidant levels, glutathione S-transferase activity and DNA damage in smokers following a single portion of broccoli: a pilot study. J Sci Food Agric. 2013 Jul 22. doi: 10.1002/jsfa.6283. [Epub ahead of print]
2. Kim MK, Park JH. Conference on "Multidisciplinary approaches to nutritional problems". Symposium on "Nutrition and health". Cruciferous vegetable intake and the risk of human cancer: epidemiological evidence. Proc Nutr Soc. 2009 Feb;68(1):103-10.
Tags: Brassica, Broccoli, Cancer, Oxidative Stress
Related Articles
Comments