Saffron vs. drugs for depression and anxiety
Posted on Mon, 30 Jan 17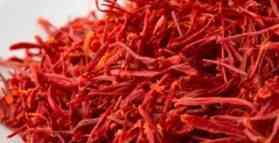 A clinical trial has demonstrated that extract of saffron is as effective as an anti-depressant drug for the treatment of depression with symptoms of anxiety.
Saffron has been used in traditional Persian medicine to improve mood for millennia, and modern clinical trials support this long history of use. A systematic review of six clinical studies previously confirmed that saffron is as effective as conventional anti-depressants, with better safety [1]. But few if studies have tested saffron for anxiety.
A new clinical study assessed the effects of saffron vs. citalopram in people with major depression and concomitant anxiety [2]. Over 6-weeks they received either saffron (15 mg of extract) or citalopram (20 mg) once daily for the first week and then twice daily.
Saffron was just as effective as citalopram for symptoms of depression and anxiety. Treatment response, remission rates and side-effects were also no different between the groups.
"It might be time to look more seriously at this valuable herbal medication," commented the study investigators. "This observation suggests saffron as a probably useful strategy for monotherapy or as part of alternative management in patients with major depressive disorder and concomitant anxious distress."
References:
Lopresti AL, Drummond PD. Saffron (Crocus sativus) for depression: a systematic review of clinical studies and examination of underlying antidepressant mechanisms of action. Hum Psychopharmacol. 2014 Nov;29(6):517-27.
Ghajar A, Neishabouri SM, Velayati N, et al. Crocus sativus L. versus Citalopram in the Treatment of Major Depressive Disorder with Anxious Distress: A Double-Blind, Controlled Clinical Trial. Pharmacopsychiatry. 2016 Oct 4. [Epub ahead of print]
Tags: Saffron, Depression, Anxiety
Related Articles
Comments