Roasted or raw?
Posted on Tue, 25 Apr 17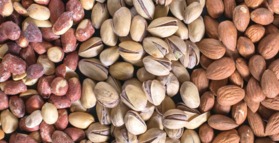 A new comparative study found that dry roasted, lightly salted nuts are just as likely to improve cardiovascular health as raw nuts.
Most studies showing improvements in cardiovascular health with nut consumption have focused on raw nuts, but many people eat them dry roasted and salted.
The question of whether cooked is as healthy as raw remains, so a research study compared the cardiovascular effects of the two.
Seventy-two people were randomly assigned to 30 g of raw, or dry roasted, lightly salted hazelnuts for 28-days and had several cardiovascular risk factors measured before and after.
Compared to baseline, both forms of hazelnuts significantly improved HDL-cholesterol and apolipoprotein A1 concentrations, total-C/HDL-C ratio, and systolic blood pressure.
The dry-roasted nuts did appear to have less effect on HDL-cholesterol and were better at lowering triacylglycerides when compared to the raw hazelnuts, but the researchers were uncertain as to why this was observed or if it was due to other factors.
Although roasted nuts may in theory improve taste the participants found raw hazelnuts just as acceptable as dry roasted, lightly salted hazelnuts.
"To conclude," wrote the authors, "both raw and dry roasted, lightly salted hazelnuts were highly acceptable and improved cardiovascular disease risk factors to a similar extent; thus, current recommendations to consume nuts regularly can be extended to include dry roasted, lightly salted hazelnuts."
Reference:
Tey SL, Robinson T, Gray AR, et al. Do dry roasting, lightly salting nuts affect their cardioprotective properties and acceptability? Eur J Nutr. 2017 Apr;56(3):1025-1036.
Tags: Nuts, Heart Health, Cardiovascular Disease
Related Articles
Comments