Post lunch dip? Almonds help
Posted on Wed, 15 Feb 17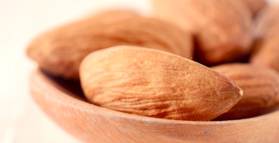 A decline in mental function after lunch, known as the post-lunch dip, could be due to what you ate. Adding almonds to lunch helped.
Post-lunch dip is common and mostly impacts memory and vigilance, but may also decrease mood and increase anxiety.
The post-lunch dip has been associated with the nutritional composition of your midday meal, with fat and carbohydrate both playing a role. Conversely, some foods may enhance mental function and could offset the post-lunch decline.
A research team from the Department of Nutrition Science, Purdue University, set out to see if a midday meal containing almonds which are low in carbohydrate, rich in healthy fats and known to improve cognitive function, would have a more favourable effect than a higher carbohydrate, lower fat, almond-free meal.
Eating almonds at lunch reduced post-lunch declines in memory, but not attention performance. When compared with the high-carbohydrate, low-fat meal, almonds ameliorated declines in memory scores by 57.7 %.
"Almond consumption at midday may be an effective means to maintain memory following the midday meal," concluded the study authors. Beyond almonds, avoiding high-glycemic index carbohydrates, including some healthful fats such as extra virgin olive oil, and eating more phytonutrient-dense foods could do the trick.
Reference:
Dhillon J, Tan SY, Mattes RD. Effects of almond consumption on the post-lunch dip and long-term cognitive function in energy-restricted overweight and obese adults. Br J Nutr. 2017 Feb 10:1-8.
Tags: Almonds, Memory, Energy, Brain Health
Related Articles
Comments