Plant-based diet and alkaline water as good as drugs for reflux
Posted on Fri, 10 Nov 17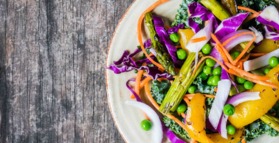 Symptoms of reflux disease can be improved with alkaline water and a plant-based diet as well or better than medication, with researchers suggesting diet should be tried before drugs.
Laryngopharyngeal reflux is a common problem but its treatment with proton pump inhibitor (PPI) drugs is controversial due to poor treatment efficacy and safety.
Laryngopharyngeal reflux is likely the result of exposure of the laryngopharynx to an acidic environment, and animal protein food stimulates acid production so it is plausible that high animal protein intake could contribute to symptoms.
To see if a plant-based diet low in animal protein could lower gastric acid secretion and reduce reflux symptoms a research group from New York Medical College performed a retrospective review of patients who had been treated with either PPI's and standard reflux diet and lifestyle advise or alkaline water (pH >8.0) and a 90% plant-based, Mediterranean-style diet.
Of the patients in the review 54.1% of those receiving PPI's and standard advise achieved a clinically meaningful reduction in reflux symptoms compared to 62.6% of those treated with alkaline water and diet.
"Our data suggest that the plant based approach is at least as good, if not better, than PPI therapy," concluded the authors. "Thus, we recommend that a patient with suspected laryngopharyngeal reflux at least attempt a dietary approach prior to any pharmacological intervention"
Reference:
Zalvan CH, Hu S, Greenberg B, Geliebter J. A Comparison of Alkaline Water and Mediterranean Diet vs Proton Pump Inhibition for Treatment of Laryngopharyngeal Reflux. JAMA Otolaryngol Head Neck Surg. 2017 Sep 7. doi: 10.1001/jamaoto.2017.1454. [Epub ahead of print]
Tags: Reflux, Vegetarian Diet, Alkaline Water
Related Articles
Comments