Multivitamin improves chronic fatigue syndrome
Posted on Sun, 30 Mar 14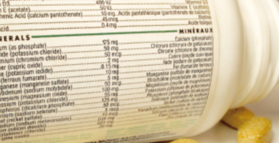 A simple multivitamin can significantly improve symptoms of Chronic Fatigue Syndrome and reduce oxidative stress, according to a small exploratory study.
Chronic fatigue syndrome (CFS) is characterized by severe debilitating fatigue, and while there are multiple factors involved in the development of CFS, functional nutritional deficiencies are known to play a role and nutritional medicine can improve symptoms.
In a prospective study, women diagnosed with CFS were treated with a multivitamin mineral supplement for 2-months and assessed for improvements in their symptoms and a measure of oxidative stress. Increased oxidative stress is a consistent feature of CFS and is modifiable by nutrition.
After the 2-months there was a significant improvement in oxidative stress and significant decreases in fatigue, sleep disorders, nervous system symptoms, headaches, and subjective feeling of infection.
There are only a few studies of multivitamin and mineral products in CFS with mixed results possibly due to the study design, strength and composition of the product and nutritional status of the individuals. Although preliminary, this study suggests a good quality multivitamin and mineral product would be a useful addition to CFS treatment.
Reference:
Maric D, Brkic S, Tomic S, et al. Multivitamin mineral supplementation in patients with chronic fatigue syndrome. Med Sci Monit. 2014 Jan 14;20:47-53 - Link to full-text
Tags: Chronic Fatigue Syndrome, Multivitamin
Related Articles
Comments