Mistrust and cynicism increase cellular aging
Posted on Mon, 31 Oct 11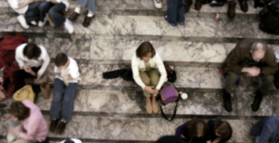 A hostile attitude toward others is also a hostile attitude toward yourself, at the level of your DNA. It seems cynical hostility burns out the internal fuse that predicts your health and longevity.
Cynical hostility, defined by general cynicism and mistrust in relationships with others, is associated with increased risk of serious illness such as heart disease (with an effect similar in magnitude to that of high blood pressure) and significant decreases in length of life (1).
One of the ways hostility may decrease health and longevity is by accelerating cellular aging. A study comparing men with high versus low levels of cynical hostility found that hostility decreased telomere length, a marker of accelerated cellular aging (2).
Telomeres are a component of your DNA that protect from DNA damage and mutations linked to age related disease and cancer. Their length is known to predict lifespan.
Cynical hostility may be a reasonable adaption to past experiences (such as discrimination) but appears to come at a serious cost to health. It is unclear how cynical hostility could be changed but behavioural counselling, stress management and social support may play a role.
References:
1. Tindle HA, Chang YF, Kuller LH, Manson JE, Robinson JG, Rosal MC, Siegle GJ, Matthews KA. Optimism, cynical hostility, and incident coronary heart disease and mortality in the Women's Health Initiative. Circulation. 2009 Aug 25;120(8):656-62.
2. Brydon L, Lin J, Butcher L, Hamer M, Erusalimsky JD, Blackburn EH, Steptoe A. Hostility and Cellular Aging in Men from the Whitehall II Cohort. Biol Psychiatry. 2011 Oct 3. [Epub ahead of print
Tags: Cynical Hostility, Teleomeres, Relationships, Social Connection
Related Articles
Comments