Health and wellbeing may enhance sexuality
Posted on Tue, 9 Mar 10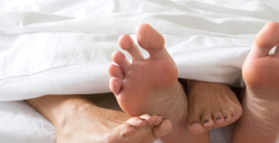 Sexual activity has been associated with health and longevity and a new report has found that sexuality (sexual activity and quality of sexual life) may be enhanced by a healthy lifestyle.
The sex survey
In a survey of some 6000 adults aged 25 through 85 it was found that sexual partnership, frequency of sexual activity, a good quality sex life, and interest in sex are positively associated with good health among middle age to older adults (1). Higher frequency of sex also corresponded to greater health in men.
Middle age and older men were found to have a longer sexually active life than women. Most men report a good quality sex life whereas about half of sexually active women reported a poor quality sex life. Overall many sexually active people in this study rated the quality of their sex life as less than good. Men were also found to lose more years of sexually active life as a result of poor health than women.
Sexual healing
Male sexual health is strongly related to lifestyle, for example lack of exercise, obesity, cigarette smoking and alcohol or drug abuse are all significant causes of erectile dysfunction (2). The causes of poor female sexual health however are less well understood and may be more strongly related to relationship quality, personality factors, past experience and life stressors than men (3). A side effect of a healthy lifestyle - including not smoking, exercise, responsible drinking, healthy relationships and stress management - may be a healthy sex life, now and into older age.
References
1. Lindau, ST, Gavrilova, N. Sex, health, and years of sexually active life gained due to good health: evidence from two US population based cross sectional surveys of ageing. BMJ 2010;340:c810
2. Fabbri A, Caprio M, Aversa A. Pathology of erection. J Endocrinol Invest. 2003;26(3 Suppl):87-90.
3. Hartmann U, Philippsohn S, Heiser K, Rüffer-Hesse C. Low sexual desire in midlife and older women: personality factors, psychosocial development, present sexuality. Menopause. 2004 Nov-Dec;11(6 Pt 2):726-40.
Tags: Sex, Erectile Dysfunction, Sexual Dysfunction, Wellness
Related Articles
Comments