Ginseng: Alternative to Viagra
Posted on Tue, 4 Aug 09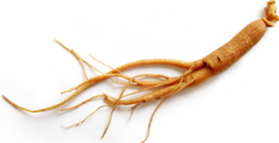 The inability of a man to achieve and maintain an erection firm enough for mutually satisfactory sex with his partner is known as erectile dysfunction and is relatively common. A large scale survey found that erectile dysfunction increases with age and by age 50 to approximately 50% of men experience erectile dysfunction with this figure increasing to nearly 70% of men by age 70 [1].New medications for erectile dysfunction are being touted as wonder drugs, however a natural alternative has been in use for thousands of years and is supported by considerable research.
The age old traditional use of the herb Panax ginseng for restoring libido and erectile function in men sparked early animal research, in rabbits, showing that the herb relaxes smooth muscle and increases blood flow in the penis [2]. Since these early findings several human clinical studies have investigated the effects of Panax ginseng with promising results.
A potent plant for potency
In 2008 a report analyzing the best available evidence found that ginseng was effective for erectile dysfunction in 6 out of the 7 studies reviewed (in total these studies were comprised of 363 men aged from 24 to 70 years old) [3]. Ginseng was also found to be well tolerated and have limited evidence of side-effects.
Since the publication of this report at least two further studies have found Ginseng effective for erectile dysfunction [4-5]. Both studies found that Ginseng improved erectile function including rigidity, penetration and maintenance as well as other areas of sexual health such as orgasm and sexual desire.
More than just erection
The major reason for erectile dysfunction in men is a reduced ability to relax penile blood vessels due to the presence of cardiovascular disease. However in a small percentage of men the cause may be psychological. Conventional drugs for erectile dysfunction increase muscle relaxation and improve blood flow by enhancing levels of a substance present in blood vessels known as nitric oxide [6].
Ginseng also increases penile muscle relaxation and blood flow and is effective in men with cardiovascular disease. Interestingly, ginseng is also effective for men with erectile dysfunction of psychological origin. The ability of ginseng to improve psychological erectile dysfunction, increase orgasm quality and sexual desire suggest unique medicinal properties of ginseng.
Traditionally ginseng has also been used to combat stress, improve mood and increase energy. The exact reason ginseng improves erectile dysfunction is not completely understood and although, like popular drugs, ginseng increases nitric oxide in the penis the herb also has effects on the nervous system that may explain its ability to improve sexual desire and orgasm [7].
Using ginseng
Human clinical studies have found doses of 600-1000 mg of Panax ginseng three times daily effective, with most showing significant improvement within 4 to 12 weeks. The type of ginseng used for erectile dysfunction is termed "Red Ginseng" and is Panax ginseng root that has been harvested when 6 years old, steamed and dried. Although adverse reactions such as high blood pressure have been attributed to ginseng, a number of studies show that ginseng actually lowers high blood pressure and is rarely associated with reactions or drug interactions [8].
Image: Dried ginseng root
References
1. Beckman TJ, Abu-Lebdeh HS, Mynderse LA. Evaluation and medical management of erectile dysfunction.Mayo Clin Proc. 2006 Mar;81(3):385-90.
2. Ahn TY, Park HS, Kim KS, Park T. Effect of ginseng on relaxation of penile corpus cavernosal smooth muscle in rabbits. J Urol 1996; 155 (Suppl): 1228.
3. Jang DJ, Lee MS, Shin BC, Lee YC, Ernst E. Red ginseng for treating erectile dysfunction: a systematic review. Br J Clin Pharmacol. 2008 Oct;66(4):444-50.
4. Kim TH, Jeon SH, Hahn EJ, Paek KY, Park JK, Youn NY, Lee HL. Effects of tissue-cultured mountain ginseng (Panax ginseng CA Meyer) extract on male patients with erectile dysfunction. Asian J Androl. 2009 May;11(3):356-61.
5. de Andrade E, de Mesquita AA, Claro Jde A, de Andrade PM, Ortiz V, Paranhos M, Srougi M. Study of the efficacy of Korean Red Ginseng in the treatment of erectile dysfunction. Asian J Androl. 2007 Mar;9(2):241-4.
6. Rajfer J, et al. Nitric oxide as a mediator of relaxation of the corpus cavernosum in response to nonadrenergic, noncholinergic neurotransmission. N Engl J Med. 1992 Jan 9;326(2):90-4.
7. Murphy LL, Lee TJ. Ginseng, sex behavior, and nitric oxide.Ann N Y Acad Sci. 2002 May;962:372-7
8. Braun L, Cohen M. Herbs and Natural Supplements an Evidence Based Guide. 2nd edition. Elsievier Publishing, Australia. 2006.
Tags: Erectile Dysfunction, Panax Ginseng
Related Articles
Comments