Gene-diet interaction may explain gut disease
Posted on Tue, 15 May 18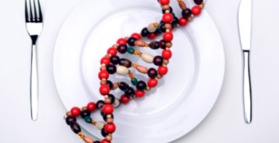 A novel diet-gene interaction may help explain why some people experience digestive problems with certain carbohydrate rich foods.
Although the cause of chronic digestive symptoms varies from person to person, some cases may be in part due to a newly identified interaction between certain carbohydrate-rich foods and a unique gene mutation.
The sucrase–isomaltase (SI) gene is well known to play a role in the development of hereditary recessive forms of sucrose intolerance, but its role in predisposition to irritable bowel syndrome (IBS) – a common problem characterized by bloating, pain, and alterations in bowel habits – has not previously been considered.
Recently, a research group found that a common SI variant (15Phe) was more common in people with IBS than symptom-free controls. They were also able to demonstrate that the gene variant reduced digestive enzyme activity by 35%, which in turn could impair carbohydrate digestion. And that it correlated with lower abundance of certain gut microbes [1].
Adding to these findings, another group of investigators looked for interactions between diet and the SI 15Phe gene variant. They also found that the variant was predictive of IBS risk, but additionally discovered that the variant was a stronger predictor in people with low carbohydrate intake from starchy food, likely because a high carbohydrate diet contributes to symptoms and masks the contribution of genotype. They also discovered that there were higher numbers of 'carbohydrate digesting gut bacteria' in those with the SI 15Phe gene variant [2].
Taken together, these fascinating discoveries suggest that a unique gene variant may explain why some people develop IBS-like symptoms with higher carbohydrate diets and represent an opportunity for personalized nutrition.
References:
Henström M, Diekmann L, Bonfiglio F, et al. Functional variants in the sucrase-isomaltase gene associate with increased risk of irritable bowel syndrome. Gut. 2018 Feb;67(2):263-270.
Thingholm L, Rühlemann M, Wang J, et al. Sucrase-isomaltase 15Phe IBS risk variant in relation to dietary carbohydrates and faecal microbiota composition. Gut. 2018 Jan 13. pii: gutjnl-2017-315841. doi: 10.1136/gutjnl-2017-315841. [Epub ahead of print]
Tags: Ibs, Digestive Health, The Digestive Health Solution
Related Articles
Comments