Entering a virtual world controls emotional eating
Posted on Tue, 28 Jul 09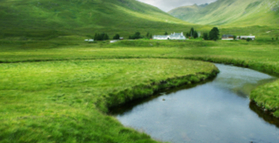 Overeating when stressed is strongly linked to weight gain and obesity. Relaxation however may help stop emotional eating in response to stress by improving reactions when under pressure. While traditional relaxation techniques may be useful a study has found that new technologies such as a virtual reality generated "Green Valley" may help.
In a study to see whether relaxation techniques could improve emotional eating, participants received either relaxation coaching from audio recordings, or audio recordings while entering a virtual reality world consisting of a green valley with a calm lake, complete with a deck chair to lounge on, surrounded by nature and mountains [1].
Both the relaxation techniques, which were used for just three weeks, effectively reduced emotional eating while improving symptoms of depression and anxiety for three months after treatment. Those who entered the virtual world to play with nature, observe the calm lake and lounge on the deck chair experienced greater reductions in emotional eating than those with the audio recordings alone.
While a virtual reality program may not yet be an accessible solution to emotional eating this study highlights the importance of relaxation and coping strategies for reducing stress related overeating. The link between stress and weight gain is well established with people who deal with stress poorly likely to overeat, in particular fatty, sweet, high calorie foods [2-3].
Finding a form of relaxation that suits your lifestyle and practicing it regularly or seeking professional stress management counselling may help maintain a healthy weight and reduce emotional overeating.
References
1. Mauro-manzoni G et al. Can Relaxation Training Reduce Emotional Eating in Women with Obesity? An Exploratory Study with 3 Months of Follow-Up. J Am Diet Assoc. 2009;109:1427-1432.
2. Bjorntorp P. Do stress reactions cause abdominal obesity and comorbidities? Obes Rev. 2001;2(2):73-86
3. Epel E, et. al. Stress may add bite to appetite in women: a laboratory study of stress-induced cortisol and eating behaviour. Psychoneuroendocrinology. 2001;26(1):37-49.
Tags: Overweight, Obesity, Emotional Eating
Related Articles
Comments