Diet specific to female hormones better for weight loss
Posted on Tue, 21 Jun 16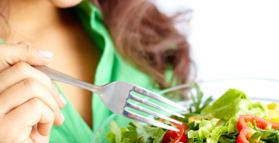 For the first time a diet uniquely adapted to the female menstrual cycle has been tested for weight loss and was more effective than a conventional weight loss diet.
Over the female menstrual cycle there are important fluctuations in hormones that influence changes in energy metabolism as well as appetite and eating behaviour. With this in mind a unique dietary approach that accommodates for these hormonally influenced changes was developed.
To synchronise the diet with the menstrual cycle it is divided into three phases (to match the hormonal profiles of the menstrual, luteal and follicular phases) over 28-days.
During the follicular phase (days 6–14) protein content of the diet was increased to optimise the body's response to increased resistance training, while during the luteal phase (days 15–28) protein intake was maintained and dietary fat content was increased to reduce food cravings, and during menstruation (days 1–5) a portion of dark chocolate was allowed to be consumed increasing the daily caloric limit, also with the aim of satisfying cravings.
Women followed the diet, or a simple low calorie diet, for 6-months. At the end of the study analyses indicated that the women in the hormone-targeted diet group achieved an additional weight loss of 5kg more than the the traditional weight-loss program.
Commenting on their findings, the research team said that "to the best of our knowledge, this is the first report of a study that has examined the impact of a differentiated diet and exercise weight-loss program that was synchronised with the menstrual cycle in a group of healthy, overweight, premenopausal women. Our data provide suggestive evidence that synchronising dietary composition and exercise with the menstrual cycle can have an additive effect to a traditional diet and exercise program."
Reference:
Geiker NR, Ritz C, Pedersen SD, Larsen TM, Hill JO, Astrup A. A weight-loss program adapted to the menstrual cycle increases weight loss in healthy, overweight, premenopausal women: a 6-mo randomized controlled trial. Am J Clin Nutr. 2016 Jun 8. pii: ajcn126565. [Epub ahead of print]
Tags: Weight Loss, Female Health, Personalised Nutrition
Related Articles
Comments