Vitamin C for cold prevention
Posted on Tue, 21 Oct 14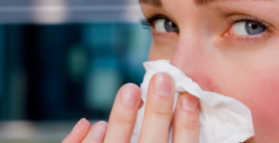 A new study has found that a daily dose of vitamin C reduces the frequency and duration of the common cold by about half.
Vitamin C is a very popular natural preventative and treatment for the common cold but research looking at whether or not it works has been mixed. One reason for this is that vitamin C may work best for people who are not getting enough in their diet.
Early warning signs of vitamin C deficiency are low mood, depression, tiredness, fatigue and aversion to exercise. And low dietary intakes of vitamin C are not uncommon.
So to test the effects of vitamin C researchers studied the effects of 1000 mg of vitamin C (a 500 mg capsule taken morning and night) in 15 people with marginal vitamin C status (plasma vitamin C < 45 µmol/L) compared to a placebo over 8-weeks.
The study found that:
Cold episodes were 7 in the vitamin C group compared to 11 in the placebo group; a risk reduction of 45%
Cold duration was reduced by 59% when compared to placebo
Those receiving vitamin C became more active with a rise in physical activity score of 39.6%
The study investigators commented that these results suggest that measurable health advantages are associated with vitamin C supplementation in people with adequate-to-low vitamin C status. Concluding that "this simple dietary strategy to promote physical activity and physical health merits further research and the consideration of health practitioners."
Reference:
Johnston CS, Barkyoumb GM, Schumacher SS. Vitamin C supplementation slightly improves physical activity levels and reduces cold incidence in men with marginal vitamin C status: a randomized controlled trial. Nutrients. 2014 Jul 9;6(7):2572-83.
Tags: Vitamin C, Common Cold, Influenza, Immunity, Infection
Related Articles
Comments