Proinflammatory diet increases colorectal cancer risk
Posted on Mon, 26 Feb 18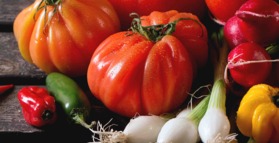 A study published in JAMA Oncology has found a significant increase in colorectal cancer risk in people eating diets that contribute to inflammation, offering new insight into how we could reduce risk with food.
The biology of colorectal cancer involves inflammation, which plays a key role in cancer initiation and development. It is plausible that diet could modify colorectal cancer risk by influencing inflammatory processes.
To examine the influence of food on inflammation and colorectal cancer risk researchers used a well-established dietary inflammatory pattern score (the dietary inflammatory index) to see if there were associations with risk in a large group of 121 050 adults over a period of 26 years.
It was found that a higher dietary inflammatory pattern score was linked to a significantly higher risk of developing colorectal cancer in both men and women. Comparing the highest scores to the lowest, colorectal cancer risk was 44% higher in men, 22% higher in women, and 32% higher in men and women combined.
"Findings from this large prospective study support a role for the inflammatory potential of diet in colorectal cancer development, suggesting inflammation as a potential mechanism linking dietary patterns and colorectal cancer development," concluded the study investigators.
Reference:
Tabung FK, Liu L, Wang W, Fung TT, Wu K, Smith-Warner SA, Cao Y, Hu FB, Ogino S, Fuchs CS, Giovannucci EL. Association of Dietary Inflammatory Potential With Colorectal Cancer Risk in Men and Women. JAMA Oncol. 2018 Jan 18. doi: 10.1001/jamaoncol.2017.4844. [Epub ahead of print]
Tags: Inflammation, Cancer, Diet
Related Articles
Comments