Passion flower tea improves sleep
Posted on Mon, 6 Jun 11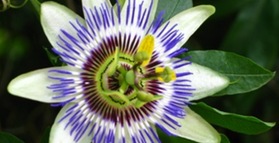 The herbal medicine passion flower has been shown to relieve anxiety and a new study suggests it can help with sleep as well.
Experimental studies suggest passion flower (Passiflora incarnata) can promote better sleep but until now human studies have been lacking despite its popularity. To test passion flower a group of people took passion flower tea (1 cup of passionflower tea) or a placebo tea for 7 days.
After the 7 days people taking passionflower tea had improvements in their sleep quality (as measured in sleep diaries) compared to placebo. A test used to measure sleep markers such as brain activity and heart rate overnight (called polysomnography) also showed improvement in those taking passionflower.
"These initial findings suggest that the consumption of a low dose of Passiflora incarnata, in the form of tea, yields short-term subjective sleep benefits for healthy adults with mild fluctuations in sleep quality" concluded the study investigators.
Source:
Ngan A, Conduit R. A Double-blind, Placebo-controlled Investigation of the Effects of Passiflora incarnata (Passionflower) Herbal Tea on Subjective Sleep Quality. Phytother Res. 2011 Feb 3. doi: 10.1002/ptr.3400. [Epub ahead of print]
Tags: Insomnia, Sleep. Passion Flower
Related Articles
Comments