How cigarette smoking increases anxiety
Posted on Sat, 19 Oct 13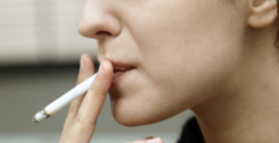 Smoking has a strong association with poor mental health and anxiety. Although people may smoke to reduce anxiety, evidence suggests it is more likely that smoking makes things worse.
Cigarette smoke exposure has been shown to predict the development of mental health problems and increase risk of anxiety but few studies have thoroughly investigated how smoking may increase anxiety.
A new review summaries several biological explanations for the adverse effects of smoking on anxiety, including influence on neurotransmitters, inflammation, oxidative stress, mitochondrial dysfunction, neurogenesis, and epigenetic effects (image 1).
Image 1: Biological pathways affected by smoking that are associated with the development of anxiety disorders.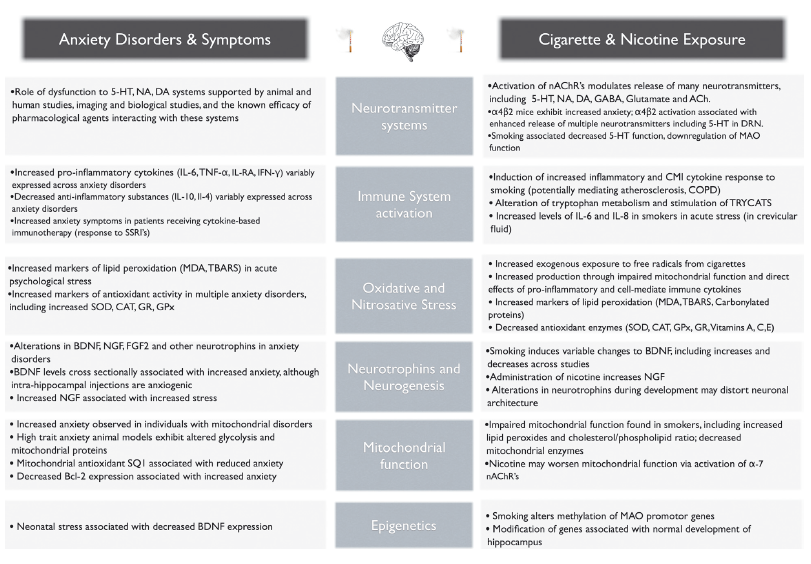 "Ingredients that are present in cigarette smoke, including nicotine and other toxic chemicals, exert influences on all of these pathways" conclude the study authors. "These effects may at least partially underpin the biological mechanisms through which smoking may contribute to increased anxiety, and potentially serve as a useful framework for further research efforts. Similar pathways are likely to be operative in other states characterized by fight, flight, freeze responses such as anger, mood disorders (e.g., depressive states), and psychotic disorders."
Reference:
Moylan S, Jacka FN, Pasco JA, Berk M. How cigarette smoking may increase the risk of anxiety symptoms and anxiety disorders: a critical review of biological pathways. Brain Behav. 2013 May;3(3):302-26.
Tags: Smoking
Related Articles
Comments